Fires
Mystic Place 5/13/11
A man was rescued from a smoke filled apartment at the Mystic Place high-rises then rushed to the hospital Friday morning.
Fire crews arrived at the complex about 9 a.m., where they found heavy smoke coming from a first floor unit of the north tower, also called tower A, Deputy fire Chief Patrick Ripley said. The male victim was found unconscious in the apartment where the fire started, Ripley said.
"They forced entry, they did their search and they found a victim on the floor there," Ripley said. They got him out into a corridor, at that point other companies assisted, they moved him out to the back, they worked on him there, and he was transported to the hospital."
The man was taken out through the rear door of the building and worked on by paramedics before being taken by ambulance to the hospital, Ripley said.
Several other people had to be helped out of the complex, located at 3610 Mystic Valley Parkway, and some were checked for minor injuries Friday morning, Ripley said. The first floor of the building sustained heavy smoke and water damage.The fire was contained quickly. No fire or smoke was showing just after 9:30 a.m.
Dorothy Donahue was in the bedroom of her first floor unit when the fire started. She didn't know anything was out of the ordinary until water began to seep into her unit, she said.
"I was in the bedroom, and all of a sudden the water started to come in and rise," Donahue said.
Donahue, who waited for her daughter in Andover to pick her up, was one of many residents scattered around the outside of the complex after the fire. It's the second time in the tower has been hit with fire in 7 months. A fire that started on a stove in a 9th floor unit caused the entire building to be evacuated late at night on Nov. 15. No one was hurt in that fire.
The situation was more challenging Friday because the first floor of the building has more difficult access than higher floors, Ripley said.
The cause had not been determined yet Friday morning, Ripley said.
"We haven't even gone there yet," Ripley said.
article by Jarrett Bencks of The Medford Patch.
Jerome Street
March 29, 2011 reported chimney fire. Engine 2 reports fire in the walls on second floor and attic area. Ladder 1 & 2 to roof for ventilation, Engine 5 and 1 assist in opening walls and ceilings to expose fire and extinguishment. Fire contained to attic area with smoke and water damage to second floor. Resident's cat was found and returned to him. Fire appeared to be accidental in nature and fire investigators were called to make final determination.
225 Forest St.
Medford Police reported attic fire. Engine 1 advanced attack line to attic while Ladder 1 conducted primary search for two possible victims. Second Alarm struck, Ladder 2 to roof for ventilation. Engine 5 crew to attic to relieve Engine 1 crew and Engine 2 crew to the basement to shut down utlilities. After extensive search it was reported to Command that the 2 possible victims were not at home at the time of the fire. Fire contained to attic area with smoke and water damage to the second floor.
115 Harvard St
Feb. 16, 2011 reported house fire, Engine 5 reports working fire on arrival. Engine 5 advanced attack line into first floor and discovered fire to be located in the basement. Engine 5 crew advanced line into basement to attack fire with backup from Engine 2 crew. Ladder 2 performed ventilation and search while Engine 4 and Ladder 1 checked for fire extension on second floor and attic areas. Fire contained to basement and fire investigation team responded for determination of cause.
44 Sherwood Rd
Feb 15, 2011 Heavy smoke showing and fire extending from 1st floor to 2nd floor. Engine 6 advance attack line to fire on 1st floor. Engine 1 took attack line to work on fire on 2nd floor with assistance of Ladder 1. Ladder 2 to the roof for ventilation and Engine 4 & 5 crews relieving first arriving companies. Fire appeared to have started around wood burning fire place and extended to ceiling spaces and chimney chase. All occupants fled the home prior to the Fire Dept. arrival.
85 Bowen Ave
Jan. 16, 2011 Engine 5 reports smoke showing. Aggressive interior attack initiated on fire in 1st floor kitchen with Ladder 1 providing horizontal ventilation. Second Ladder company used to ventilate 2nd floor apartment. Engine 1 and 4 checked for fire extension and fire was contained to the room of origin.
17 Lund Rd
Heavy smoke from 2nd floor reported by Engine 6. All occupants of the home were accounted for and Engine 6 initiated interior attack on fire. Engine 1 used pre connected attack line on 2nd floor with Engine 3 backing up Engine 6 on 1st floor. Due to weather and fire conditions a 2nd alarm was struck. Ladder companies provided ventilation and second alarm companies assisted with checking for fire extension. Fire was controlled under very adverse conditions.
7 University Ave
November 19, 2010 received call for fire in house with people trapped. Heavy smoke showing from 2nd and 3rd floors and two people at 2nd floor window awaiting rescue. Ladder 1 used ground ladders to rescue the victims. Engine 2 used aggressive interior attack on 2nd floor fire backed up by Engine 5. Engine 1 and Ladder 2 assisted with secondary search and confirmed there were no additional victims. Fire was contained to the 2nd floor due to the aggressive tactics of the companies working.
520 Boston Ave.
Roof fire at Tuft's University building due to heat from a welding torch discovered by firefighter working the detail. Box response called for and responding units found fire in the isulation between the rubber roof and steel decking. The alertness of the detail firefighter was instramental in preventing a more serious building fire.
7 Bradford Ave
September 23, 2010 several calls to 911 Center reporting a house fire. Engine 5 reports working fire on rear porch with fire overlapping to second floor. Engine 1 took attack line to first floor to check for interior fire extension. Moderate smoke damage to all 3 floors of the structure with slight water damage to first floor apartment. Heavy fire damage contained to first floor porch. Probable cause was careless disposal of smoking materials.
22 Sharon St.
September 12, 2010. Heavy fire and smoke on arrival. Engine 2 initated primary attack with Engines 1 & 5 providing additional attack lines. Three alarms were struck due to heavy fire volume and exposure problems. Malden, Arlington & Somerville responded to fire ground and assisted Medford crews with various fireground operations.
40 Lambert St.
August 17, 2010. Ladder 2 reports smoke showing with heavy fire on second and third floors of the structure. Engine 1 advanced an attack line to the fire floor while Engine 4 advance attack line to 3rd floor. Second alarm struck due to hot weather conditions and heavy fire. Engine 6 provided exposure protection while Engine 5 relieved Engine 1 crew and Malden Engine 3 relieved Engine 4. Due to hot weather conditions crews were rotated as needed. Fire was contained to second and third floor and was deemed to have been the result of improper disposal of smoking material. Red Cross was called to assist displaced residents.
53 Bristol Rd.
August 3, 2010 Engine 5 reports a working fire on second floor. Engine 5 attacked fire on second floor with Engine 2 providing back up line. Engine 1 advanced an attack line to 3rd floor with both Ladder companies providing ventilation and assistance with checking for fire extension. House was under renovation and cause of fire appeared to be due to improper disposal of flammable rags which combusted spontaneously.
10 Bradford Ave
July 9, 2010 Engine 5 reports smoke showing and all occupants of the building out of the structure. One female occupant was transported by A1 to the LMH for treatment. Engine 5 initiates aggressive interior attack and confines fire to second floor bedroom. Heavy fire damage to bedroom with smoke and water damage to second floor and water damage to first floor. FIre was found to be accidental in nature.
367 Mystic Ave.
Intial call for an outside fire, first arriving company called for a full box assignment when they discovered a fire in a large box container in the rear of the property. Engines 1, 4 & 5 with assistance from Ladder 1 extinguished the fire. Burger King was temporarily evacuated until the contents of the box container was ascertained.
247 Park St.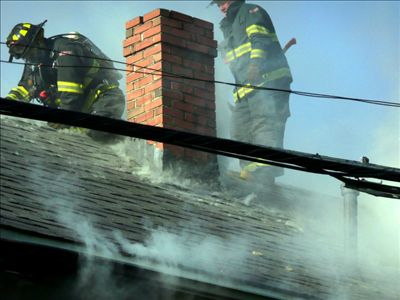 May 13, 2010 Ladder Two reports heavy smoke showing, C2 requests second ladder company. Heavy fire observed from the "B" & "C" sides of the structure and second alarm is struck. Engine Six makes aggressive interior attack and Engine Four takes second attack line to back up Engine Six. Engine One assigned to exposure protection. Ladder Two provided roof ventilation while Ladder One provided horizontal ventilation. Malden Ladder Three and Engine Three responded to the fire ground and assisted Medford crews. Four residents were displaced by the fire and the Red Cross was called to provide assistance.
Download:

MFD fires 037.jpg

MFD fires 041.jpg
112 Washington St.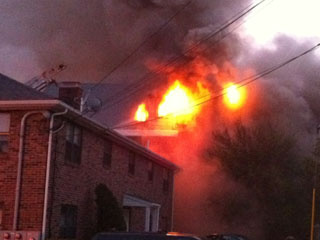 July 7, 2010 received a call for a house fire at 112 Washington St. Second alarm struck on arrival with heavy fire from upper floors of the building. Third alarm struck due to severe exposure problems. Malden and Arlington units responded to fire ground. Fire was contained to the building of origin. All residents were accounted for. Fire took several hours to extinguish due to the size and layout of the structure.
Sturges Street
Check out the Aug. 3rd 2009 working fire that Group A had in the photo gallery under "In Action".

102 Bowdoin Street
Basement fire strikes Bowdoin Street
By Rob Barry/ rbarry@cnc.com
Wed Feb 11, 2009, 03:37 PM EST
Medford -
Flames ripped through the basement of a two-family house on Bowdoin Street earlier this afternoon, leaving residents shaken.
The fire broke out around 1 p.m. at 102 Bowdoin St., sending firefighters to the scene. The fire was quickly snuffed out before it could spread to the rest of the building.
Outside the basement door in a paved walkway, a couch, armchair and some other possessions smoldered. A few fire engines lined the street as one firefighter gave the basement a final dousing.
?There was heavy smoke on arrival,? said Deputy Chief Steve Howe. ?Engine 5 made an aggressive interior attack. The flames were knocked down in 10 minutes.?
No one was injured by the blaze, the cause of which is under investigation. Due to the damage, electric power to the house was shut off and no one was allowed inside unescorted.
The smell of sulfur reached well down the street.
?It was a fire that started in the basement,? said one woman, who lived on the first floor. ?It didn?t spread from the basement because they came so quickly.?
?Mainly the stuff that got burned was hers, mine and our daughter?s,? said another resident.
Howe commended the men of Engine 5 for their quick response and all other emergency personnel responding to the scene.
?It didn?t spread to the second floor,? Howe said. ?It was a great job done by all.?
Sharon Street Fire
Here are a few thumbnail shots of the Sharon Street Fire. Group A was working with Engine Two as the first due pump. Photos are courtesy of The Medford Transcript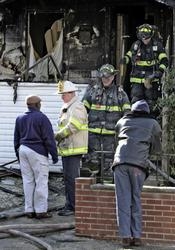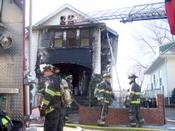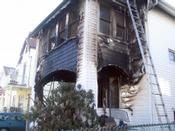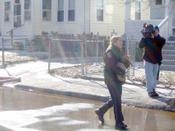 Group A did their usual efficent job on the fireground!
6/8 Bradshaw St.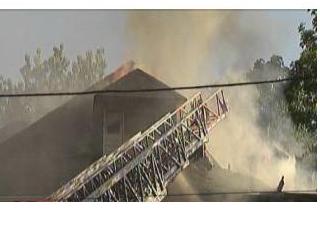 May 21, 2010 heavy fire upon arrival with fire extending from first floor bay window to the second floor and soffit line, second alarm struck. Engine Four initiated aggressive interior attack on first floor backed up by Engine One. Engine Five took attack line to second floor while Engine Six provided exposure protection. Ladder Two provided roof ventilation while Ladder One conducted search. Malden Engine Three responded to fire ground on second alarm. Fire condition deteriorated rapidly and Command ordered all units out of the building. Defensive fire fighting operations were initiated. Both residents of the home were out of the building at the time of the fire, one Medford Lt. suffered burns and was treated and released from the ER.
Page Last Updated: May 15, 2011 (06:44:00)